13 Sep

Bringing the shine to Yorkshire: The history of Airstreams

Airstream trailers are an iconic American landmark, so people often ask… what's one doing in the middle of a Yorkshire Dales village? Our silver bullet is not only a conversation starter for visitors, but also a treasured part of the family!

In this blog, we dive into the history of Airstreams, and how we took ours from The Big Apple to little Appletreewick.
Humble beginnings
The name 'Airstream' was coined by Wally Byam in the 1930s. It perfectly captured his vision of a lightweight trailer that would move like a stream of air yet provide first-class accommodation. Every inch was designed with purpose and built to last, so it's no surprise that 80 years later, early Airstreams are still on the road.
The silver bullet: Post WWII Airstreams
During the 1940s, Airstream factories were closed and workers, including Wally Byam, joined the war efforts. But it wasn't long before Airstream was back and better than ever before. Soon after the war, Wally joined his friend Neil Vanderbilt in a tour across Europe to road test the Airstream, and the results had a huge impact on the future of the silver bullet.
Wally passed, but Airstream lived on
Airstream and Wally Byam went hand in hand all the way up to his death in the 1960s. Fortunately for us, Wally's legacy flourished. A major redesign, including internal and external facelift meant Airstreams became much more comfortable, luxurious, and distinctive. This is where we see the signature "bullet" shape take form.
Since then, Airstream has continued to be on the pulse of modern-day travellers. Today, you can find a range of trailers, from lightweight models for middle-sized cars, to the full bells and whistles – and everything in between!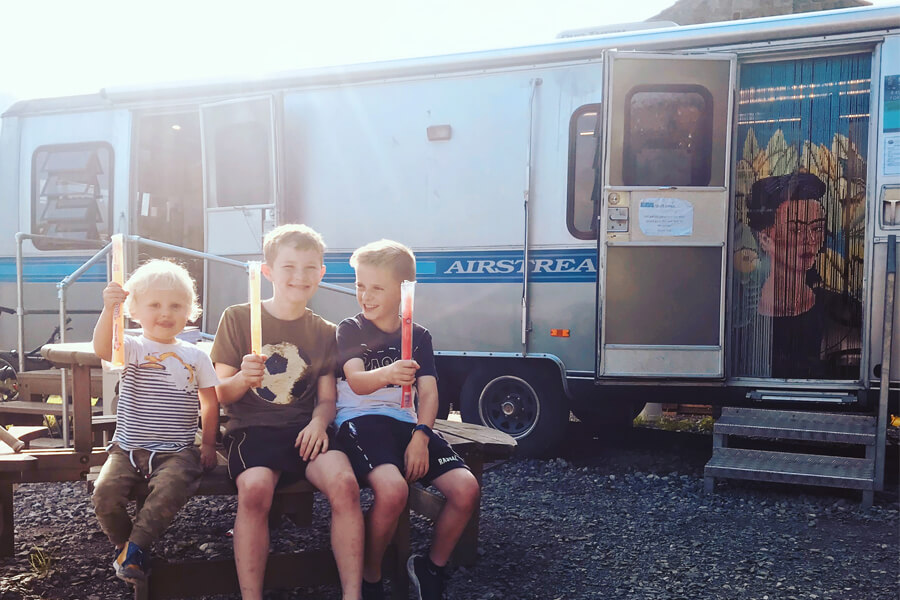 Airstream at Masons Campsite
With such a long-standing history and divine purpose, it's easy to see how Airstreams became such a popular icon. That's exactly why, when we were searching for a shop/office space, the silver bullet seemed like an obvious choice vs. traditional bricks and mortar. Getting our Airstream over the pond proved to be a challenge, (who knew a long trailer and winding Yorkshire roads don't mix?!). But it was all worth it.
Our original Airstream is now classed as a Yorkshire Dales landmark, which has only fuelled our love for the brand. As a family, we frequently take trips in our modern touring Airstream – it's been all over Europe. Masons Campsite has gone from strength to strength in recent years, which meant the original Airstream was no longer suitable. That's why we purchased a larger Squarestream from the US, to make our collection a trio.
Today, the Squarestream makes an excellent, and much more practical space for the on-site shop and office. Meanwhile, the original Airstream has been restored to its former glory and can still be found on-site as staff accommodation, complete with decking and a potted garden.
Do you share our love for adventure and luxury?
Wally's legacy resonates with so many people – it's his love and passion for exploring that made the Airstream brand what it is today.
We're equally passionate about bringing people to the outdoors in a sustainable, luxurious way. Learn more about Masons Campsite, and our mission to help you explore the Yorkshire Dales.
Masons Campsite: About us