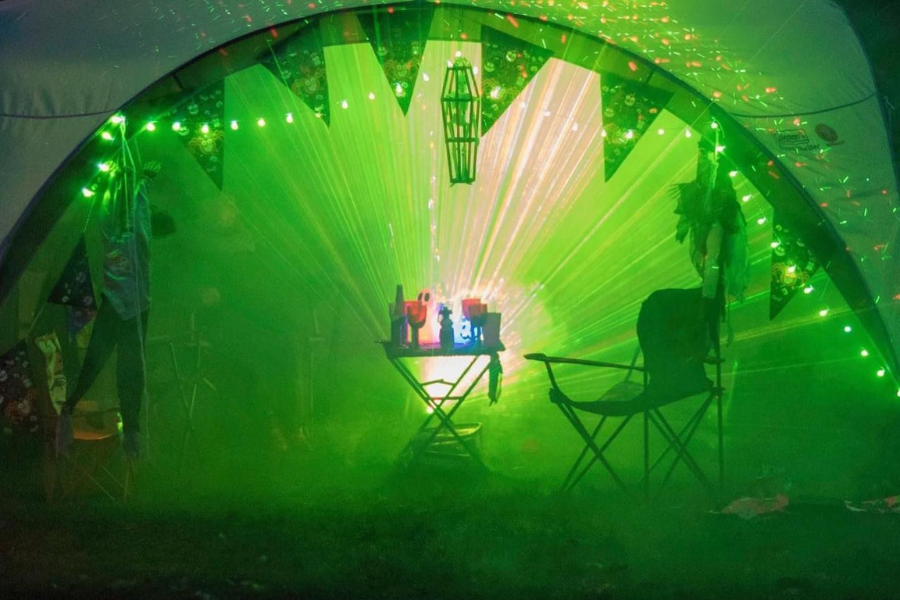 06 Oct

Masons Campsite: Yorkshire's haunt for Halloween camping

The Yorkshire Dales is a hospitable county steeped in history, so there's no wonder locals believe many spirits are still soaking up the good times! There's nothing to be frightened of here at Masons Campsite – instead, roaring fire pits paired with scenic landscapes make for a warm and welcoming autumnal visit. In this blog, we share the ways that you can celebrate the occasion with enchanting ideas that create bewitching memories.

Ready to book? That's the spirit!
Maximising spooky moments
In times gone by we've summoned the entire campsite to an annual celebration. This year, we've shelved the idea in favour of inviting families, friends, and couples to build their own traditions. With that in mind, we have plenty of suggestions to make sure every generation has a 'ghoul-d' old time!
Nature's howling
Around these parts we really do get into the spirit of spooky season. In the neighbouring village of Bolton Abbey you enter the famous Pumpkin Trail – a giant puzzle accessed through hidden clues that will keep little ones entertained all afternoon. For something a little closer to home, why not build your own campsite scavenger hunt? Winner gets the first toasted marshmallow!
Did you really participate in Halloween festivities if you don't have the pumpkin to prove it? We think not. Luckily, local farms including Hesketh Farm Park and Thornton Hall Country Park are offering seasonal picking so you can proudly display your efforts – however, be warned, wheelbarrow pictures are a must!
Trick, treat or slurp
Pumpkin spiced lattes are a cosmopolitan staple, but rest assured we have our own autumnal feasting traditions here in the Yorkshire Dales that might just rival the big brands. Our local pubs always have a seasonal menu to try, and we personally think Sunday roasts were made for cosy afternoons. Yorkshire pudding and mash, anyone? Back at the campsite, homemade recipes are a hit. Try a spooky twist on s'mores by adding bananas, Nutella, and orange zest – all washed down with a warm apple cider and tasty mulled wine, of course.
'Tis the last weekend of the season
Sadly, Halloween weekend marks the final hurrah of a jam-packed summer season before we return in 2024. If a dive into nature featured on your bucket list this year, or you're in need of a last-minute family getaway, now's your last chance to make that happen!
'Witch' pitch? Choose from camping, glamping, and caravanning