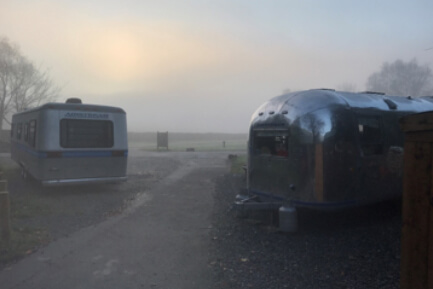 29 Nov

Masons History: The Airstream
If you're a regular camper at Masons, you might be familiar with one attraction in particular: our 1968 Overlander Airstream (aka campsite office and shop)! You might not, however, know much about its history or how it found itself in lovely Appletreewick.
Back in 2010, we made the exciting purchase of the vehicle from the Big Apple! That's right, our little airstream came from Sheffield, New York, complete with the entire history of the vehicle inside and even a picture of its first ever owner.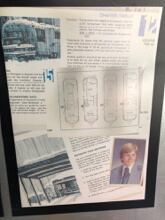 We purposely shopped around in Sheffield (New York) as we knew there was a shipping port close by. This was very important as we needed to get the Airstream from New York to Liverpool using a roll-on-roll-off boat, which would take around 10 – 14 days to reach its destination.
We used our own contacts to complete the move, seeking help from Frankie Wainman, a BriSCA Formula 1 Stock Cars racing driver. There were no brakes on the vehicle, so it was towed all the way from the shipping port in Liverpool to its new home at Masons Campsite.
We were determined to renovate the Airstream ourselves and were fully committed to the project. So much so that we actually missed out on getting Glastonbury tickets that year! (Anyone who knows us will know what a big deal that is.) But, it was well worth it.
The Airstream was stationary in our on-site barn for six months. During this time, we worked day and night to transform the old vehicle into our very own quirky little office/reception, and it looked amazing (if we do say so ourselves)! It wasn't long before it then turned into an office and onsite shop for our campers – selling food, essentials, camping basics and of course sweets and toys for the kids!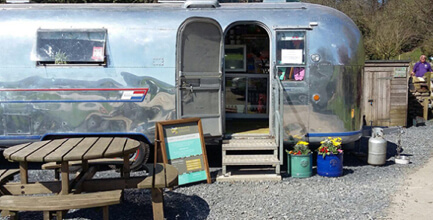 Did you know that the Airstream is now even considered a landmark in the Yorkshire Dales?
Over the past nine years, as Masons has grown, we have started to run out of space in our office and shop. But, we're always looking for new and exciting ways to improve the site, and we knew some time ago that we needed something a bit bigger which could accommodate a larger office.
This is when we discovered the Squarestream! A bigger (more square) version of the Airstream which boasts much more space – perfect to fit our main office in, leaving the Airstream to act solely as a shop for campers and visitors.
The Squarestream will be ready this Spring/Summer and comes with its very own story and fascinating history. So, watch this space!
To visit our campsite, please give us a call on 01756 720 275 or book online. We have plenty of amenities to suit everyone, including camping pitches for caravans, tents, campervans and motorhomes as well as glamping yurts and safari tents complete with log burners and electricity.
We open our doors on Friday the 29th of March, so, we'll see you all then!