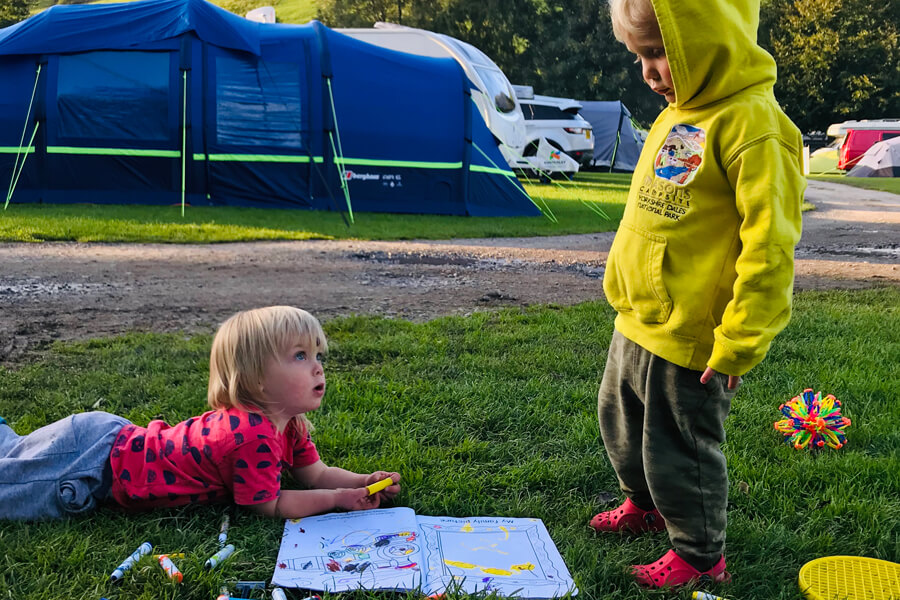 29 Nov

Top tips for camping with toddlers
If this is your first camping trip with a toddler, you might be slightly panicking (or completely freaking out), but alas, there are certain things you can do to make your stay a lot easier.
Camping holidays with your little ones shouldn't be feared, they should be relished! So, here are our top things to consider when camping with a toddler. We hope it helps!
Bring along their favourite outdoor toys
As we all know, toddlers don't sit still! They will want to be constantly moving and playing, so, don't forget to bring some outdoor toys to keep them occupied at all times. Bringing familiar toys is also a good idea because it can help children feel more at home and settled.
Something a lot of parents have told us is that they've practiced camping with their little ones in the back garden before doing the real thing. Doing this allows your toddler to get used to spending the night in a tent, and it could prevent a surprise meltdown on the first night of your camping trip if they don't actually like it.
We're not sure about yours, but from our experience, a hungry toddler is not a happy toddler! So, be sure to bring as much food as you can. Think snacks! They're super easy to prepare and you can whip them out at any point, whether you're by your tent or on a family walk in the Yorkshire Dales.
Don't forget your travel potty
If your toddler is already out of nappies, it's very important to remember a travel potty as children can feel uncomfortable using the portable loos on campsites. It will also make things 10 times easier if they decide they need to go in the middle of the night.
Think about your sleeping arrangements
If you're staying in a tent, there's nothing worse than laying on a hard floor all night. So, instead of a sleeping bag, a lot of our mini campers bring toddler mattresses with them. They're small, compact and easy to put wherever you wish in your tent.
If you're coming to see us this spring/summer and have any questions about our facilities and/or what we offer for children, please don't hesitate to contact us on 01756 720 275.
If you haven't booked your stay yet, what are you waiting for?! You can book online or give us a call and don't forget to follow us on social media to keep up to date with our offers and promotions!
Instagram: @masonscampsite
Facebook: @masonsappletreewick
Twitter: @masonscampsite
See you soon!