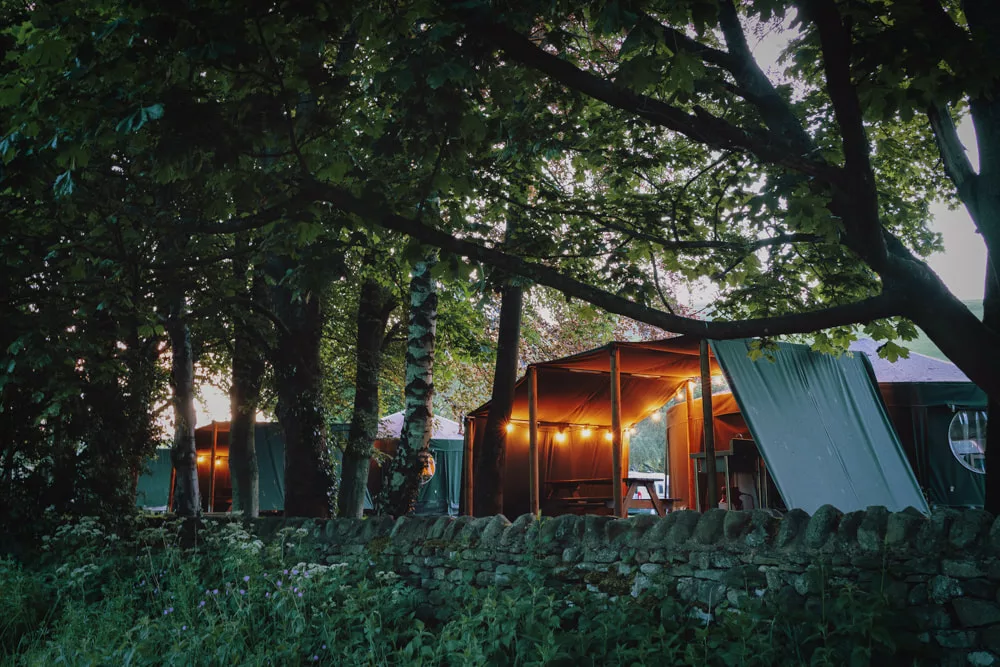 14 Aug

An eco-conscious, lavish getaway in the heart of the Yorkshire Dales

It's not often you see the words 'luxury' and 'sustainability' together where one doesn't outweigh the other, but this is one of those times when they work in perfect harmony. At Masons Campsite, you can enjoy an eco-glamping getaway that is nothing short of a treat, but without the inevitable guilt that often comes with splurging.

In this blog, we share five reasons why Masons Campsite should be your go-to for mindful travel that's good for the mind, body, soul… and environment!
1. Low impact accommodation
Our Yurt and Safari tents offer the best that camping has to offer, and steer well clear of faff, commitment and unnecessary spend. The canvas we use has minimal environmental impact, blends perfectly with its surroundings, and is made up of sustainable materials – your local tent shop simply can't compete!
It's tempting to think that staying in a yurt might be rudimentary, but an overnight experience with us couldn't be further from basic. Our wrought iron bed with comfy bedding, log burning stove stocked with seasoned wood and outdoor firepit keep the chill off – leaving guests relaxed, refreshed and completely at ease.
2. The outdoors on your doorstep
We're situated on the peaceful River Wharfe, a haven for flora and fauna that's sure to distract you from the stresses of everyday life. We often encourage guests to leave their devices to one side and really enjoy connecting with nature – there are hidden gems to be found all over the dales just waiting to be explored.
On an evening the night sky comes to life as minimal light pollution makes for the most wonderful scenes. In fact, the Yorkshire Dales National Park has been designated a Dark Sky Reserve by the International Dark Sky Association.
Explore our glamping options
3. Sustainable indulgence
Not only is our accommodation sustainable, but guests also rave about our local eateries. This makes their carbon footprints virtually non—existent. Yorkshire is an oasis of rich food, and chefs are proud to use ingredients from the local area. You can expect rich roasts, fresh scones, the flakiest pastries and more. We even have local ales filled with Yorkshire hops!
4. Minimal packing
One of the best bits about our Yurts and Safari Tents is their fully-stocked amenities. There's nothing worse than that last minute supermarket dash when you realise you forgot a washing up sponge. With our glamping options, you can spend less time planning and more time enjoying yourself – just don't forget your favourite walking boots for exploring!
5. Bring your ideas home
Old habits die hard when you're in the same environment, but a stay at Masons Campsite can give you a completely new perspective. We're proud to show that a sustainable getaway doesn't have to compromise on luxury, and hope that a stay at Masons Campsite is just the beginning of a sustainability journey. It would be great to think that, following a visit, guests continue to reduce phone time, enjoy local dining and be more mindful about waste and water usage.
What are you waiting for?
We can't wait to show you around our glamping accommodation and hope they inspire you to book an eco-friendly getaway in the heart of the Yorkshire Dales.
Explore Masons Canvas Glamping